We are Pleased to Accept Credit and Debit Cards!

Checks No Longer Accepted.
Ticket Prices
Adults $7.00
Ages 13-59
Children & Seniors $5.00
Ages 3-12 & 60+
Mondays & Matinees $5.00

Drive-In Carload $10.00
3d Features $1.00 Extra
No FREE PASSES accepted for 3D features (these tickets have FREE PASS printed on them, you may still use Gift Certificates)


Gift Certificates
Due to overall price increases, we have found it necessary to increase the price of our gift certificates.
Ticket with small popcorn and small soda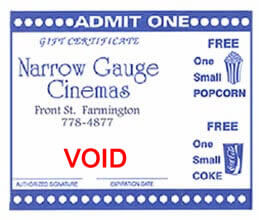 $9.50 each
$85.00 pack of 10
---
Movie Gift Certificate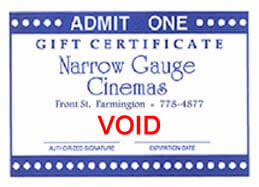 $7.00 each
$60.00 pack of 10


Child/Senior Gift Certificate
$5.00 each